go with it
okay. so the thing i don't get about companies who are morally bankrupt? why not just admit you're the anti-christ and move on? why pretend to be something you're not? these companies spend millions of dollars, millions of dollars that could be given to...oh, i don't know...ME, on spin control when it's discovered the yummy breakfast sandwich they marketed directly to kids not only causes ebola, but was also manufactured by convincted sex offenders. poor, destitute sex offenders. in third world nations. who knows what a poor, destitute sex offender from a third world nation is desperate enough to do to your breakfast sandwich!
but i digress. the point is, if you're evil and you know it, if you can virtually feel the flames of hell licking at your very soul because of the evil,
evilocity
that resides in the dark underbelly of your company's soon to be shredded document vault, if your company screws the dog every chance it gets, you should embrace it -- don't shun it! take advantage of it. use it in your favor. "yeah, we screwed the pooch on that one. so what? wanna fight about it?"
that's what
i'd
do if i were starbucks and accused of unfair trade practices, adding genetically engineered ingredients to my coffee, and making huuuuuuge profits by raping every damn street corner in the world with one my over-priced coffee shacks.
but, you know, that's just me.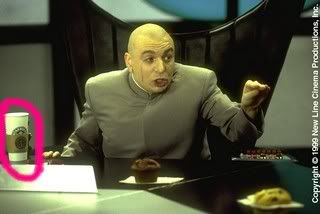 Starbucks Brand Coffee: The Official Beverage of Evil.
posted by kimberley at 12:35 PM
15 comments